Krystal Ellingson Receives CCRC Volunteer of the Year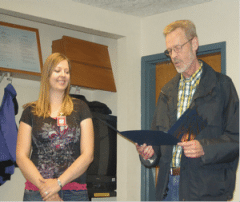 In recognition of her volunteerism with the Ridge Dogs program at Coyote Ridge Correctional Center Krystal Ellingson was awarded 2010 Volunteer of the Year. She received her award in April 2011. Rick Karten, Correction Program Manager, offered this statement on Krystal's work:
"Krystal Ellingson, owner of Speak Dog Training in Tri-Cities, has volunteered at Coyote Ridge Corrections Center from the beginning of the Ridge Dogs Program; the first two dogs arrived on October 4th, 2010. The dogs are paired with two offenders, a primary and a secondary handler, who will be responsible for the dog's care and training. Krystal Ellingson volunteers as the trainer and provides supervision of the program. These dogs live in the offender's cell until the training is complete. Prior to the dogs arrival, she trained all the offender dog handlers on the proper procedure for handling and training the dog assigned to them.
Early on Krystal's skill and great abilities in training and communicating with the offenders were recognized. She has had to modify her training methods to meet the security needs and physical plant of the facility. She developed and wrote curriculum and training aids specific to the offender handlers needs, all on her own time at home. She recognizes the varied learning styles of each offender handler and assures that their training meets their learning style. She is on-call 24 hours a day to assist with behavior problems that may arise. She contributes 48 hours of her time per month to assist the dog handlers with the training of their assigned dog and to observe/evaluate the progress of both the handlers and dogs.
Krystal also assists in getting donations and discounts on supplies needed to run the dog program. She has worked closely with A to Z Animal Sheltering Services to obtain the dogs selected for the program as well as other support. In addition, she sought assistance from local pet stores and other businesses to get donated supplies and services including free training for the offenders, food, treats, supplies, and other supporting equipment.
Krystal has helped the Ridge Dog Program by assisting in meeting our program goals which are:
1)      Save the lives of dogs and make them adoptable to a loving home
2)      Reduce the violence in the prison
3)      Change the direction of some of the offender's lives by giving them a new skill and a sense of responsibility
4)      Provide programming jobs for offenders
During the 3 ½ Months, and to the date of this submission that the Ridge Dog Program has been existent, Krystal has assisted in training 24 offenders handlers. Our current dog count is nine (9) which has far exceeded our expectations."
Rick Karten
Corrections Program Manager
Coyote Ridge Correctional Center