Ridge Dogs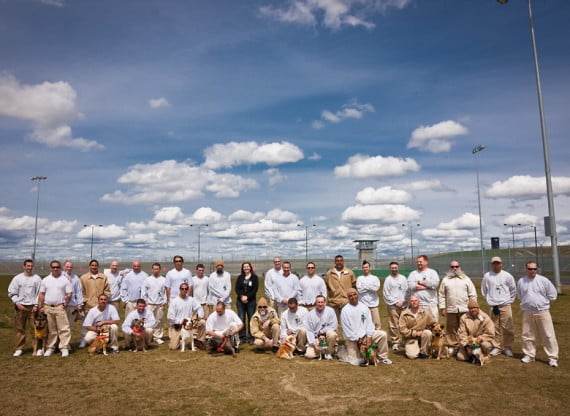 Ridge Dogs is one of our past outreach projects. The prison is now managing the program.
The Ridge Dogs program is a unique program that teaches the inmates at the Coyote Ridge Correctional Facility in Connell, Washington how to train dogs. Through education and ongoing mentoring approved inmates  learn minor behavior modification techniques as well as basic training techniques which they, in turn, use to train dogs that would otherwise be put to death at a local shelter.
The dogs are chosen for this program because it is their last option before euthanasia. These dogs exhibit often behavioral issues that cannot be easily managed without intensive training.  Upon completing the program these dogs will be able to consistently sit, stay, lie down, come when called, walk on a loose leash and heel all on request. In addition, many will earn their A.K.C. Canine Good Citizen certificate and all will have a knowledge of clicker training.
This program has been incredibly successful in changing the lives of both the dogs and the inmates.  To date the program has saved over 100 dogs who have gone on to be adopted by loving families from around eastern Washington and the surrounding tri-stare area. As for the inmates, they have learned valuable lessons about themselves and real world skills.
"I never thought I would land my dream job while being locked up, but I have. This so called job, as it doesn't feel like one, brings internal happiness to me and I get to see the external happiness of other inmates and staff when I have a dog. This program provides love and happiness for many people and dogs. When you have love and happiness in your life, what else do you really need?
Thank you & all staff who brought me my 2nd,chance 13 years early".

Dog Handler, T.M.
Click here to learn about adopting one of these great dogs.