Justine Norton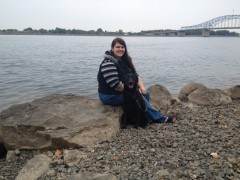 Justine started volunteer work at veterinary clinics in 2006 and has been involved in the pet industry ever since. Her ambition had always been to be a veterinarian, but when she met Krystal in 2009 she caught the 'training itch' and realized that there are other ways to help animals other that veterinary work.
Justine studied Animal Sciences at WSU and became more aware of the field of animal behavior. When she came back to Tri Cities from WSU she got the opportunity to work alongside Krystal and learn more and more about training and behavior.
 Certification Council for Professional Dog Trainers – Certified Professional Dog Trainer – Knowledge Assessed (CPDT-KA) The only independent and international psychometrically sound professional dog trainer assessment. This agency assesses knowledge of the science of dog training and has an experiential requirement as well as. This certification requires continuing education to maintain – guaranteeing current knowledge of the latest and most effective techniques.
International Association of Animal Behavior Consultants – Associate Certified Dog Behavior Consultant (ACDBC) The International Association of Animal Behavior Consultants is a multi divisional organization where members work with animals of all sorts. Krystal is a consultant of the dog division.
Professional Member  of the Association of Professional Dog Trainers which is an organization of dog trainers who are committed to becoming better trainers through education.
S.T.A.R Puppy EvaluatorThis is a program put forth to start puppies off, in their homes, for success. Socialization, Training, Activity, Responsibility – don't think your puppy will be the only one evaluated here
Canine Good Citizen Evaluator This American Kennel Club program encourages responsible dog ownership. Dogs who pass this 10 item test are recognized as good citizens in public as well as at home.
Love on a Leash – Therapy Dog Evaluator The Foundation for Pet Provided Therapy also known as Love on a Leash is a not for profit, charitable organization that encourages volunteerism.
CATCH, Canine Trainers Academy Official Mentor Trainer
Canine Trainers Academy requires their students to work closely with a Mentor Trainer. As a Mentor Trainer it is our job to be sure the student is educated on proper training techniques and to be sure they are able to perform training duties fluently. Mentor Trainers also help instruct on dog related behavior solutions to prepare the dog trainer in training for their career in the field.
Pet Nutrition Education from Washington State University Being educated in pet nutrition Justine is highly knowledgeable about ingredients and quality, the components of nutrition and how they are used and absorbed in the body of dogs (and cats).
American Red Cross Pet First Aid & CPR This pet first aid training provides education on about what to do until you can get a dog to a veterinarian or vet technician. Educational topics included splinting, wound care, poisoning, and other common issues.
She has had two dogs, the first was a Rottweiler named Cannon and the second is her current dog, Cassie, a Border Collie mix. Cassie started out with a rough life but has become a great example of how dogs can relearn to relax, love, and trust with the right guidance using positive training and consistency.
Justine is comfortable treating behavior cases involving fear, anxiety, and aggression which rounds out her training tool box with more useful skills.