Testimonials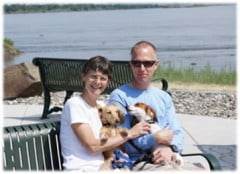 "Our first encounter with Krystal was when my husband and I got Milo at 8 weeks old.  Since we wanted to start behavior training right away, our new puppy was the smallest and youngest in the class.  What we learned was that Krystal is a professional in teaching humans how to speak dog!  She breaks down each command and allows you to teach your dog with confidence and success.  Milo graduated from several classes taught by Krystal (puppy, CGC, rally and therapy).  As a result of early training and Krystal's method, Milo is a well behaved therapy dog that loves people and other dogs.
When Milo was 9 months old, we rescued Max.  We thought Max might came with some behavioral issues, so we immediately enrolled Max in a class with Krystal.  Krystal helped us to understand Max and how to teach him to be a good dog.  When we had an issue with Max barking at other dogs and people walking by our yard, we asked Krystal to come to our home for a one-on-one session.  Krystal observed Max and offered us different options to help teach Max to become a social and confident dog.  Max is still learning, but has come a long ways thanks to Krystal's guidance.
We always recommend Krystal to people that talk about getting a dog.  We believe in the way she teaches humans to train their dogs so we all can be good, social, confident and well behaved members of our community."
Machelle, Mike, Milo & Max
---
"Krystal is amazing. I don't know who enjoyed the classes more, me or my dog? Mia used to get loose and run until I caught her, with Krystal's help she now comes when she's called, which is a saving grace! Not only that, but Mia would never return a ball and while fetching wasn't part of the class Krystal gave extra training advice and needless to say Mia will retrieve now. I look forward to more classes with Krystal."
Aubrey Brown
---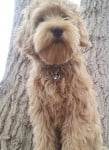 "Six weeks of Krystal's puppy classes was a condition of sale with the breeder of my Australian Labradoodle and was money well spent. I also choose to take advantage of Krystal's in home training for a week when Riley developed a nasty habit of nipping at my pant legs. After living with Krystal for a week, Riley has learned that nipping isn't acceptable and this has never been a problem since! I highly recommend all the services that Krystal has to offer."
Greg Thaemert
---
"Thunder bit my next door neighbor in the butt, thankfully, he had a wallet. There
were only two skin peels on the top and bottom of the wallet according to his wife. I needed immediate help because Thunder had a history of biting people, even the hand that feeds him (meaning ME).
I was referred to Speak Dog, Krystal the owner. I told her the situation she told me exactly what to do upon her arrival. He barked when she drove up and then she rang the door bell, he went ballistic. I opened the door then Thunder jetted forward hit her knee and then bit her shoe. She calmly stated "please take Thunder back into the house and I will meet you outside". We met outside and she told me her plan on how to proceed with the training. We did as told and then Kystal was close enough she said "I will ring the door bell" ….bingo! Thunder went ballistic. Her conclusion; Thunder needed to be desensitized to sounds and people. She IDENTIFIED the major problem!
Now with Krystal's expertise we began a successful journey of desentizing him to sounds and people."
Toni Harris
---
"Annie was a 4 1/2 year old rescue Beagle that knew only a breeder's cage and four litters. She now is a show off on lead and is social gad-about."
Noel Kerr